Who would have ever known I would like a vegetarian dish? Ok, that's being a little dramatic but I can't help it.
After pregnancy, I have not been able to look at chicken the same. Luckily cauliflower has become increasingly popular over the last few years. I have enjoyed Buffalo Cauliflower in place of wings, cauliflower mac 'n cheese, and obviously cauliflower rice. Recently I have been on a big Mexican food kick. I think my family is ready to throw out the rest of the avocados in hopes I'll stop making tacos and Chili Verde. Anyways, during this big Mexican kick, I remembered these enchiladas I used to make back in college. They were greasy, fried, and nothing short of amazing. I stopped making them for a few reasons. They weren't the healthiest option, they took a really long time to make, and the biggest reason of all (dun dun dun…) the chicken. Like I said, not always my favorite.
One night I had a wild idea. What if I replaced the chicken with cauliflower? And guess what? It worked! These are so simple to make I can get these in the oven in about 15 minutes and that's giving you a generous amount of time.
Let's Not Make This Difficult
I have noticed myself saying this often while I'm cooking or doing things around the house. Isn't it funny how often we find ourselves making jobs more difficult than they need to be? This got me thinking of the different kinds of dinners that I make. Weeknight dinners have no business being complicated. Fewer steps and simple ingredients are the way to go. Now not all dinners I make are "let's not make this difficult" types of dinners, sometimes I like to, as Tonya Leigh said, "Romance Yourself." Cooking an intricate dinner is enjoyable for me and makes me feel accomplished. But I definitely save these for the right place and time and you should too! So tonight LET'S NOT MAKE THIS DIFFICULT and let's enjoy dinner and the process behind it. 
Cauliflower Enchiladas
Take a night off meat and enjoy these vegetarian enchiladas. They are great for a no-fuss dinner.
1/2 head of cauliflower
2 tbsp butter
2 cans green chilies
8 oz shredded Mexican blend cheese
flour tortillas (I like flour but you could use corn )
30 oz Enchilada sauce (I use Siete green enchilada sauce )
toppings and sides
sour cream
cilantro
Mexican rice
beans
guacamole
Margaritas!
Pre Heat your oven to 375

Break the cauliflower into thumb size pieces. This does not need to look pretty, and will without a doubt make more of a mess than you were expecting. Not to worry you are still doing it right.

Melt the butter and pour over the cauliflower. Add the green chilies and mix.

Assemble; lay a single tortilla flat, add a layer of cheese, and about two tbsp of cauliflower. Roll and place into your pan or cast-iron skillet. Repeat, taking care to pack the enchiladas tightly together.

Cover with enchilada sauce and top with a heap of cheese.

Bake in the oven until cheese is golden brown, about 20 minutes. Enjoy!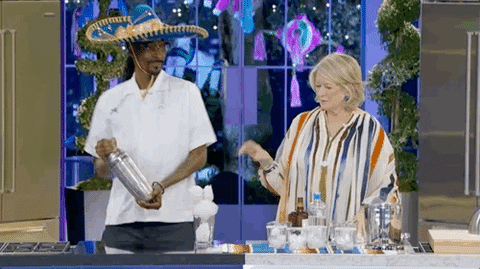 I love a skinny margarita: lime, tequila, and Cointreau. Salt the rim and poured over ice!