Step away from the box! You're better than that, I believe in you. My hunch is you don't even know how easy homemade buttermilk pancakes are. The sad thing is the boxes at the grocery store have convinced us that it is hard. We see the box and think "oh boy if they are selling it as a mix this must be hard or take too much time…" Joke's on us, we have been making overpriced mediocre pancakes for years now. Today we are saving some green and wowing our loved ones with a new skill. Homemade Buttermilk Pancakes from scratch!
Step into the kitchen Chef and I'll show you just how easy making homemade buttermilk pancakes can be.
First, the only "specialty" item you will need is buttermilk. If you don't have buttermilk on hand and you were about to make some right now I will help you make substitution buttermilk. Yes, I'm serious you can make it from scratch too, just like your pancakes!
A quick substitution for homemade buttermilk is easy peasy lemon squeezy – lemons are involved. Ok, here we go. In a glass bowl or a pyrex measuring cup add one cup of milk. Next, add one tablespoon of lemon juice OR distilled vinegar to the milk, stir, and set aside for five to ten minutes.
Flap Jacks – Hotcake – Slapjack – Griddle cake
But first a quick history on pancakes: Pancakes date way back to the Romans. They were made out of milk, flour, eggs, and spices. In the 15th century, Shakespeare enjoyed pancakes and often talked about them in his plays. Variations of pancakes are seen across many different cultures, the French enjoy crepes, in Finland, they make Pannukakku, in Russia Blinis are yeasted pancakes, usually made with buckwheat flour and served with sour cream, jam, honey, or caviar. In the US and Canada we make buttermilk pancakes and serve them with maple syrup… thank you Canada!
Tips and Tricks for Pancakes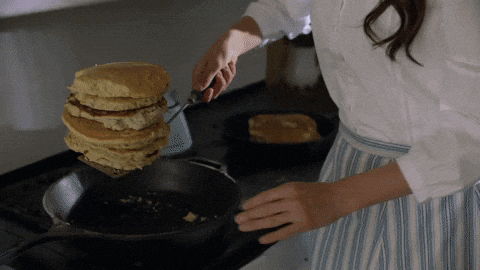 Sift your dry ingredients for extra fluffy pancakes. Whisking can help too!
Don't over mix! When all your ingredients are ready to be mixed a quick mix is all you need. Lumps are O.K
Let your batter rest. For best results you want your batter to rest for at least 15 minutes. Wake up, mix your batter, move it to the side, make your coffee, and start frying that bacon. By the time you get back around to making your pancakes, they will be nice and rested.
A quick wipe of the pan between batches will keep it fresh.
Use a cookie scoop to measure out the batter.
Flip when the batter just begins to bubble, once flipped they will only need another 1-2 minutes to cook.
Buttermilk Pancakes
These pancakes are the perfect way to start your weekend. They take only a few minutes to whip together.
1 1/2 cup all purpose flour
1 tsp baking powder
1 tsp baking soda
1 pinch salt
1 egg
1 1/4 cup buttermilk
3 tbs melted butter
Melt the butter and let it sit for 5 minutes, allowing it to cool down.

While the butter is cooling, sift all dry ingredients (except salt) into a large mixing bowl. Add salt after sifting.

Add cooled butter, eggs, and butter milk to the dry ingredients. Whisk until well combined.

Heat a griddle or a frying pan. Add a small pat of butter to your heated surface, add your batter. See above sections for tips and tricks. Flip once the bubbles appear, cook another 1-2 minutes. Enjoy!