I love any holiday, it gives me inspiration and something to look forward to. With Valentine's Day around the corner, I have been getting pretty crafty at home. I'm LOVING how much Jude is participating this year. So far we've made garlands, cookies, AND my favorite play-dough Recipe. I'll be sharing a few of the crafty things we have going on through the next few weeks. I hope you get your craft on with me!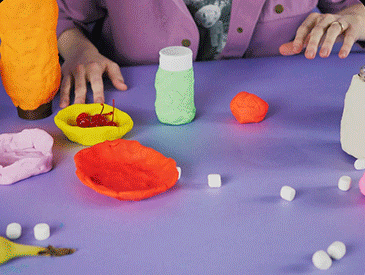 I have been a Pre-School teacher for the past 10 years. Trying many many many play-dough recipes along the way. A few years ago I had started working at a new school and the teacher I was teaching with told me she had the best play-dough recipe. I had heard this a million times. all pre-school teachers have "THE BEST" recipe. But this teacher was right she really DID have the best play-dough recipe! SO now I really do have "THE BEST recipe and now you can too. I did change the original recipe a bit swapping the vegetable oil for coconut oil and it's just as lovely! So I thank Ms. Davis for changing my play-dough game. Enjoy my
Play-Dough tools I recommend
Homemade Play-Dough
This playdough recipe is THE BEST. Believe me, you won't find another as smooth, OR that lasts as long. Happy paly-dough-ing!
4 cups water
food coloring
4 tbs coconut oil -melted (I have used many different kinds. I stay away from vegetable oils such as canola for health reasons. )
4 cups flour
1 cup salt
1/2 cup cream of tartar
essential oils
Add water to a large pot. Before turning on the heat add food coloring and oil.

In a bowl mix together the dry ingredients(flour, salt, cream of tartar). Slowly whisk the dry ingredients into the pot of water. Mix extremely well NO CHUNKS! 

Place pot on the stovetop with the burner set to medium-high heat. Stir continually until glossy is gone only a tiny sticky. 

Immediatly dump onto a work surface add essential oils if you like (a little goes a long way) and knead. You will want rubber gloves to do this right away OR you will have to wait for the dough to cool down.